Affordable Commercial Bounce House for Sale - Where do you find them?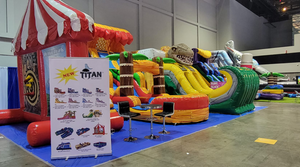 Hey there, Party People! If you're on the hunt for the best deals on a Commercial Bounce House For Sale, you're in the right place. We understand how tricky it can be to find high-quality, affordable options. But don't you worry! We've done the legwork for you. Get ready to discover some of the best places to snag awesome deals on commercial bounce houses. Let's jump right in, shall we?
Why Choosing Commercial Inflatables is a Smart Choice When Looking For Bounce Houses For Sale.
Commercial Inflatables are absolutely the way to go when you're shopping around for bounce houses for sale. For starters, they're built to last, crafted from high-quality materials that can withstand all the bouncing, tumbling, and general fun that come their way. Plus, most commercial inflatables feature reinforced seams, which means they can handle a ton of wear and tear without compromising on safety or fun.
From a business perspective, choosing commercial inflatables is also a win. These bounce houses are designed to accommodate a larger number of kids, which makes them perfect for big events like carnivals or birthday parties. With the ability to entertain more children at once, you can increase your profit margin, making the return on your investment much quicker.
Aside from durability and potential profitability, let's not forget the fun factor. Commercial inflatables come in a variety of designs, themes, and colors. Whether you're looking for a classic castle, a fun-filled obstacle course, or a splashy water slide, you're sure to find a commercial inflatable bounce house that fits the bill. So, when it comes to finding the perfect Commercial Bounce House For Sale, going commercial is definitely a smart move.
Top Websites to Find Affordable Commercial Bounce Houses For Sale
1. Titan Inflatables
Titan Inflatables is a heavy hitter in the world of commercial bounce houses. They're known for their high-quality, durable designs that can withstand even the most energetic bouncers. Whether you're looking for a fun-filled obstacle course or a classic jumping castle, Titan has your back.
2. HEC Worldwide Inflatables
HEC Worldwide Inflatables has a reputation for delivering some of the best bounce houses in the business. They specialize in eye-catching designs and top-notch safety features. So, if you're looking for a commercial inflatable that's as safe as it is fun, HEC Worldwide is a solid choice.
3. Leisure Activities USA
Leisure Activities USA brings a fun twist to the table with their unique, creative designs. Their bounce houses aren't just durable and safe, they're also a blast for kids. With an array of themes and colors, you're sure to find something that will make your event a hit.
4. EZ Inflatables
EZ Inflatables is all about making things, well, easy. They offer a wide selection of commercial inflatables that are not only fun and safe, but also easy to set up and take down. If you're looking for a hassle-free inflatable experience, EZ Inflatables has got you covered.
Each of these manufacturers provides top-notch commercial inflatables that are worth every penny. And the best part? They offer competitive prices, making them an excellent choice for those looking to buy affordable commercial bounce houses. So go ahead, start browsing these sites. Your perfect bounce house is just a few clicks away!
Factors to Consider When Buying a Commercial Bounce House
When buying a commercial bounce house, there are several key factors to consider.
Durability: A high-quality bounce house is made of strong, durable materials that can withstand the enthusiastic bouncing of many kids over time. Look for products with reinforced seams and double stitching.
Design: The design of the bounce house is crucial to its appeal. Bright colors, fun themes, and interactive features (like slides or obstacles) can significantly enhance its attractiveness to kids.
Safety: Safety should be your top concern. Ensure the bounce house has safety features, such as secure netting and adequate anchoring systems, to prevent accidents.
Ease of Setup: Go for a bounce house that's easy to inflate and deflate. Trust me, you'll thank yourself later.
Price: While you want a quality product, it needs to be within your budget. Compare different options to ensure you're getting the best value for your money.
Cheap vs. Quality: Balancing Cost and Safety When Buying A Commercial Bounce House
When it comes to purchasing a commercial bounce house, you might be tempted to go for the cheapest option available. After all, who doesn't love a good bargain? But hold on a minute! In the world of inflatables, cost should never compromise safety. While affordable bounce houses might be easy on your wallet, they may not stand the test of time or provide the necessary safety features. The last thing you want is an inflatable that tears or deflates suddenly during an event, posing a risk to the kids and spoiling the fun!
That's not to say you need to break the bank for a quality bounce house. There's a balance to be found. Start by setting a realistic budget, considering the possible return on your investment. Remember, commercial bounce houses offer a higher capacity, meaning more admission tickets for events! Next, prioritize safety and durability over aesthetics. Look for bounce houses made with strong materials, reinforced seams, secure netting, and reliable anchoring systems. Attractive designs and themes are important, but they come second to safety and durability.
Lastly, don't forget to shop around and compare prices. The websites we've mentioned offer great deals on high-quality commercial inflatables. Plus, they often have sales and discounts, so keep an eye out for those. Buying A Commercial Bounce House is a big investment, but with careful research and consideration, you can find a safe, durable, and fun inflatable that won't stretch your budget too thin.
Customer Reviews: Top Commercial Bounce House Manufacturing Companies That Deliver High-Quality Products
1. Titan Inflatables - Murfreesboro, TN
Customers can't stop raving about Titan Inflatables. Their top-notch durability and innovative designs have earned them high praise. One customer wrote, "Our Titan inflatable has been a game-changer for our events. It's been durable, easy to set up, and a major hit with the kids!"
HEC Worldwide also consistently receives stellar reviews from customers. Many highlight the company's commitment to safety and quality. A satisfied customer noted, "The quality of HEC inflatables is unmatched. Not only do they look great, but they also have some of the best safety features I've seen."
Investing in a commercial bounce house can seem daunting, but by prioritizing safety, durability, and quality over cost, you're sure to find an inflatable that's a hit at any event. Remember, the ultimate goal isn't to find the cheapest option, but rather to provide a fun, safe environment for kids to enjoy. With the right consideration, research, and budget, you can find a fantastic commercial bounce house for sale that offers the best of both worlds: affordability and quality. And remember, sometimes, the best investment you can make is in the smiles of the children who'll be enjoying the bounce house!